The Dark Spring and Dark Spring: VR

ft. "Wake" by RYAT
3 minutes, 2018

The Dark Spring: VR was created by FLOAT LAND as part of a residency at Coaxial Arts Foundation in partnership with the Pasadena Arts Alliance.

Mythological stories often carry the motifs of an underworld-dwelling divinity emerging into the light, as frost-covered earth once again becomes teeming with life. This myth is reinterpreted within Parsons's work through the use of screen-based media and technology.


In this solo exhibition, Parsons presented a series of floral sculptures made of discarded cemetery flowers, fresh flowers, and yard refuse, alongside new video works, an interactive projection, and a virtual reality prototype. The Dark Spring focuses on themes of mortality as a meditation on the passing of time and the celebration of the natural cycle of death and rebirth. An excess of color, beauty and decay is portrayed in the artists' distinctive electro-Victorian sensibility.


Parsons's Coaxial residency fell just after the vernal equinox in the northern hemisphere, a time of year marked by cultures across the world for millennia. The piece 3.20.18, 9:15 AM PST is a collaboration by Parsons and over 40 media artists from around the Los Angeles area, including Anna Luisa Petrisko (Jeepney's), Candace Reckinger (USC Animation), Chandler McWilliams (UCLA DMA), Eileen Cowin, Ethan Gold, Eva Aguila, Gavin Gamboa, Jonathan Snipes (Clipping), Laura Darlington, Lee Tusman, Michael John Kelly, Natalie Sun (Next Art), Nathaniel Eras, Nina Sarnelle, Peter Flaherty (CalArts Interactive Media/Performance), Rachel Binx, Samantha Culp (Paloma Powers), Sarah Zucker, Sharsten Plenge (We Open Art Houses), Ty Pownall (Pepperdine), Victoria Vesna (UCLA DMA).


This residency was made possible by a grant from the Pasadena Arts Alliance and technical support from Coaxial Arts Foundation and FLOAT.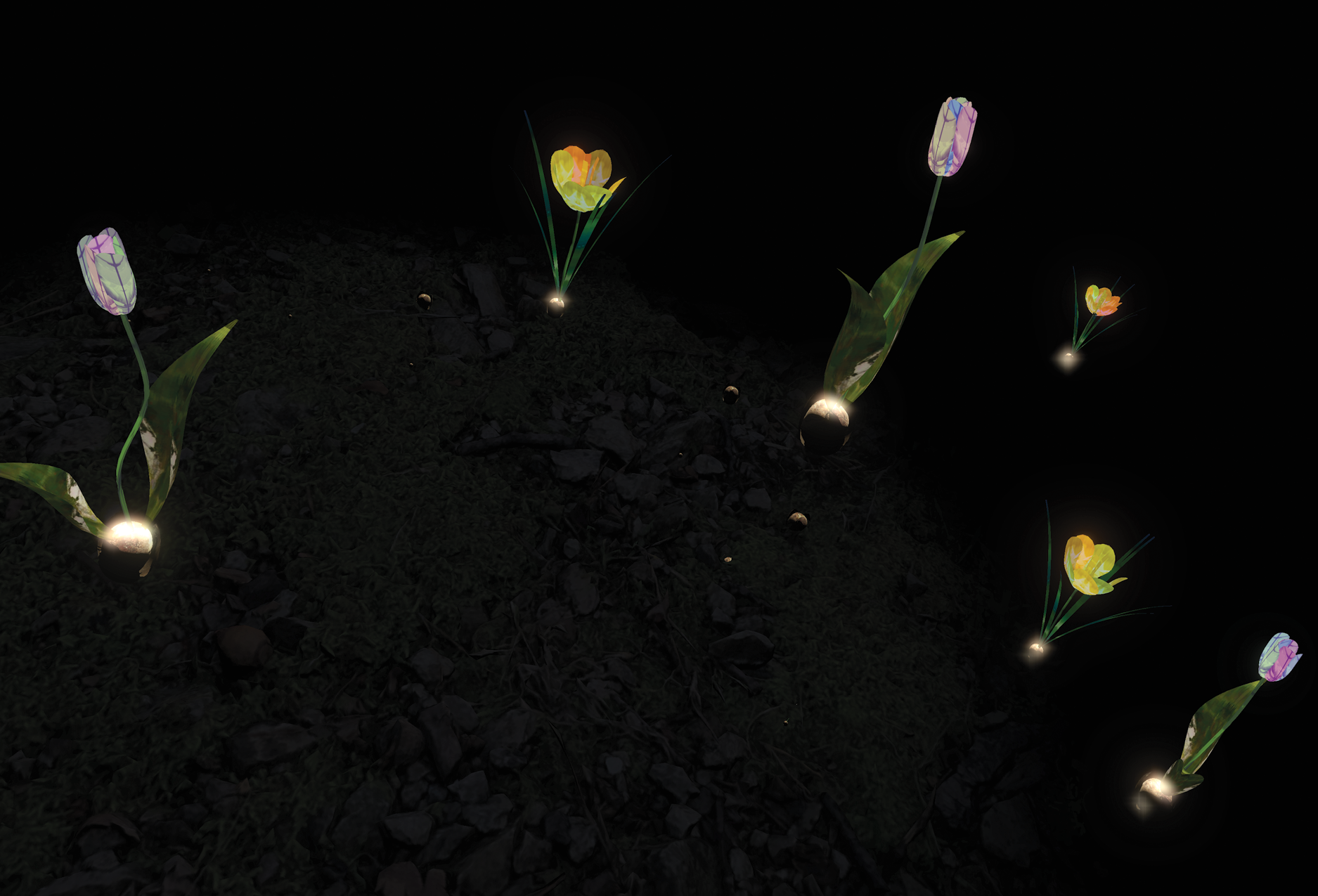 Still From Dark Spring: VR ft. Wake by RYAT




The Dark Spring, installation.





The Dark Spring, installation.





The Dark Spring, installation.



Holodome

Vulcan Holodome x Wevr Productions and FLOAT LAND
FLOAT Museum: Holodome Edition
ft. FLOAT, Jennifer Steinkamp, Casey Reas, Megan Daalder, Kerenza Harris, Mark Pellington.
Venice, CA

FEMMEBIT
is a platform and triennial festival uniting an all-female roster of Los Angeles based artists working in video and new media. A celebration spanning a curated program of symposiums, screenings and exhibitions, FEMMEBIT examines today's society at large as an ever-changing medium; how women working with and between technologies enable progressive ideas to be born through active creation; and how we, as proponents of these fields, must work together to shape, share, and grow a future receptive open to progress.
Femmebit can often be found at Spring/Break Art Fair, The Other Art Fair, and various screenings in the LA area and beyond.
Parsons is founder of Femmebit, which is co-founded by Sharsten Plenge and Janna Avner. Team members include Dahn Gim, Richelle Gribble, and Eva Aguila.
Femmebit Video Art and New Media Festival
Video, AR, VR, Performance, Installation and more.
June 2019, June 2016


Meditative visual journey through the graves at Valhalla cemetery in North Hollywood.